"May the Force be with You"
"Another Galaxy, another time."
I usually write about a variety of literary devices on the Wonder of Words Blog. But since today is Star Wars Day and my household lives on the edge of everything galactic, I am deflecting to all things Star Wars. For us, reading Star Wars books is akin to watching the movies (over and over). Die-hard Star Wars fans already know the movie was NOT based on a novel. The movie script was made into a novel (written by ghost writer Alan Dean Foster, a fantasy and fiction writer) and published three months before the movie release. It promptly sold out.
In further research, I discovered there is now a plethora of books ranging from picture books to cookbooks and everything in between about all the Star Wars adventures.
For the bakers and cooks among us, check out the Wookiee Cookies recipe in The Star Wars Cookbook, or the Darth Malt recipe featured in The Star Wars Cookbook II.
For young readers, Golden Books has a whole series of Star Wars stories including Star Wars I am a Jedi, Star Wars I am a Droid, and Star Wars I am a Hero.
While I devoured all things Star Wars my library had to offer, love at first sight for me was Star Wars: The Secrets of the Jedi. It is a historical documentation of the Jedi and the Force, as well as the lives of Jedi legends including Anakin Skywalker, Obi-Wan Kenobi and the beloved Jedi Master, Yoda, told by none other than Luke Skywalker.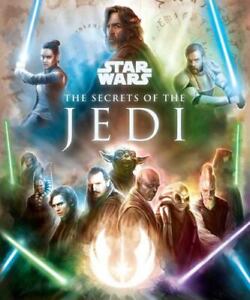 It is an interactive reading experience with a translator card and a popup holocron, which is a device used to store knowledge and wisdom. It can only be accessed by "those skilled in the Force." (And yes, I had to look up what it was!)
No matter what you're looking for in terms of the Star Wars Realm, there is much to be had. Enjoy your search and May the Force be with You!